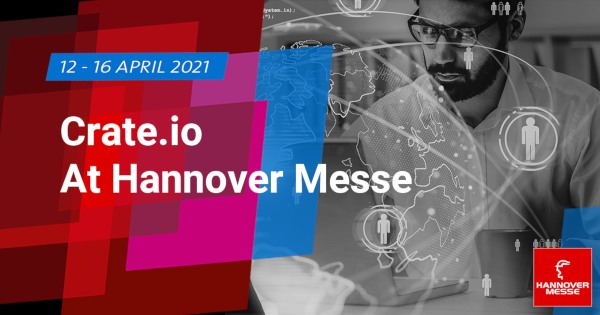 The key theme of the Hannover Messe Digital Edition 2021 is "Industrial Transformation: Innovation. Inspiration. Interaction". During the event, exhibitors and industry thought leaders are presenting their technologies and ideas for the factories, energy systems, and supply chains of the future. ​
Crate.io is the developer of CrateDB, a highly scalable, distributed database solution that combines the performance of NoSQL with the power and simplicity of standard SQL. ​
One focus of Crate.io's presentation will be our new Edge solution, which will be launched during the event on April 15th. As part of our participation at the Hannover Messe this year, we are hosting a joint livestream with our partner Zühlke to talk more about the change in the Industrial Transformation and the importance of the Edge solution.
Livestream​
The Edge Is Here: How Cloud and On-Prem Combine for Better Data Storage
Date & Time: ​April 15th, 13:30 13:30 – 13:55 CET
The needs of enterprises to efficiently run operations are changing. No longer is it enough to manage data on-premise or on the cloud. Running data, queries, and analytics on the edge is the next phase of digital transformation. ​
Join the Crate.io joint livestream with Zühlke Group on April 15 at 13:30 CET. ​
Event ID: 99090​
Speakers
Eva Schönleitner
CEO, Crate.io

Bernhard A. Zimmermann
Director Business Development, Zühlke Austria
Tickets
To get your free ticket for the Hannover Messe Digital Edition, please register yourself.
Business Dating
Hannover Messe is the meeting place for the industry community. Use the networking opportunities and get in touch with us directly, as well as with other exhibitors, and participants. It is easy to find suitable contacts, make appointments and get into a conversation via video call.​
​Appointments can be arranged via One-2-One Video Call in 15-minute intervals for a duration of up to 90 minutes.​
​To start the appointment, you can call up the meeting room directly from your appointment calendar and meet the Crate.io contact person there.​