Table functions are functions that produce rows in the same way as a table, and with Crate's latest testing release (0.55.0) we have added support for unnest. Unnest uses arrays to generate a transient table with each array representing a column:
cr> select * from unnest([1, 2, 3], ['Arthur', 'Trillian', 'Marvin']);
+------+----------+
| col1 | col2     |
+------+----------+
|    1 | Arthur   |
|    2 | Trillian |
|    3 | Marvin   |
+------+----------+
SELECT 3 rows in set (... sec)

Bulk Inserts
To insert large amounts of data efficiently, you are recommended to use bulk inserts. With a client that does not support these or if you have no direct access to the rest endpoint you can be out of luck!
With unnest there is a way around this by using insert-by-query you can select from an 'unnested' table which results in a bulk insert internally:
cr> insert into authors (id, name) (select * from unnest([1, 2, 3], ['Arthur', 'Trillian', 'Marvin']));
INSERT OK, 3 rows affected (... sec)

As the response suggested, the three rows have now been inserted:
cr> select * from authors order by id;
+----+----------+
| id | name     |
+----+----------+
|  1 | Arthur   |
|  2 | Trillian |
|  3 | Marvin   |
+----+----------+
SELECT 3 rows in set (... sec)

The resulting performance is also comparable to bulk requests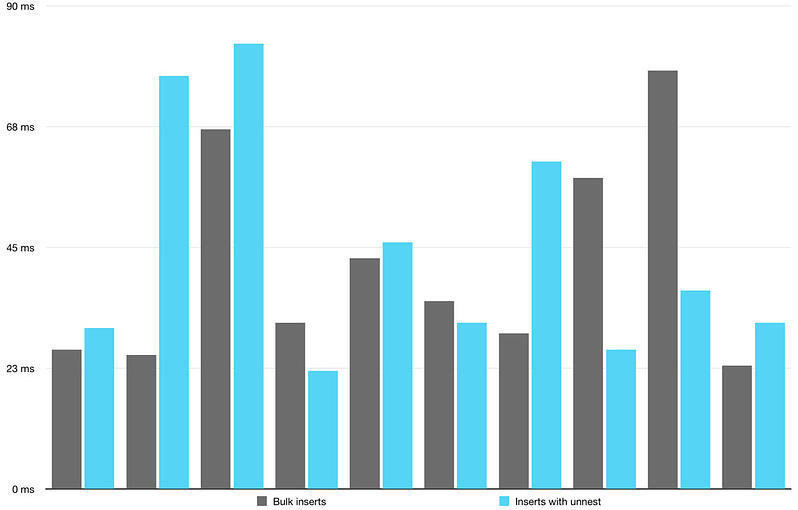 Comparison of a single bulk request and insert via 'unnest' of 1000 rows, repeated 10 times on a single machine